For as long as I've been a college basketball fan I've been a UNC fan. I grew up watching Michael Jordan and the Bulls with my dad, and when I started to get into college basketball Vince Carter and Antawn Jamison were playing for Carolina and that became my team. I can't even count how many UNC shirts I bought in high school, and I went to my first game when UNC came to IU for the ACC/Big Ten challenge in 2005. I vividly remember being the only UNC fan at my friend's party for the 2005 national championship. I sometimes get a little nervous during big games, but during the 2nd half of that game I was visibly shaking during Illinois' comeback. Ray Felton was my favorite UNC player of all-time and I still get the chills watching One Shining Moment from the 2005 championship when he stole the ball at the end to seal it. I went to my 2nd game in 2009 when UNC came to the United Center to play Valpo. That made my attendance at Carolina games a perfect 2 for 2 in leading to National Championships. Both of those games were a lot of fun, but I had always wanted to attend the game that mattered most. The ultimate rivalry. Separated by 8 miles and a shade of blue. UNC vs. Duke. With a fully loaded roster on both sides, I felt like 2012 was as good of a time as any to attend the best rivalry in sports in person. It turns out I was right.
Marie and I took a few days off work and planned to visit the campuses and the Durham/Chapel Hill area in addition to the game. Both campuses are incredible. UNC definitely reminded us a lot of IU. The Old Well is just like the Sample Gates. Kirkwood Ave = Franklin St. There's an arboretum, an old rec center and a new one, and beautiful scenery in both places. At Duke the buildings all have this medieval look to the point where (in the words of our friend who just enrolled in nursing school at Duke)  "you feel like you're in Harry Potter." When we were looking for Cameron Indoor Stadium we were shocked when we actually saw the sign. The building looks the same as all the others on campus. The big double doors are made of wood almost like an old church. I really felt like I was in a high school gym when I was inside, but I guess that's what gives it its mystique. We ate at some fantastic restaurants and really enjoyed ourselves.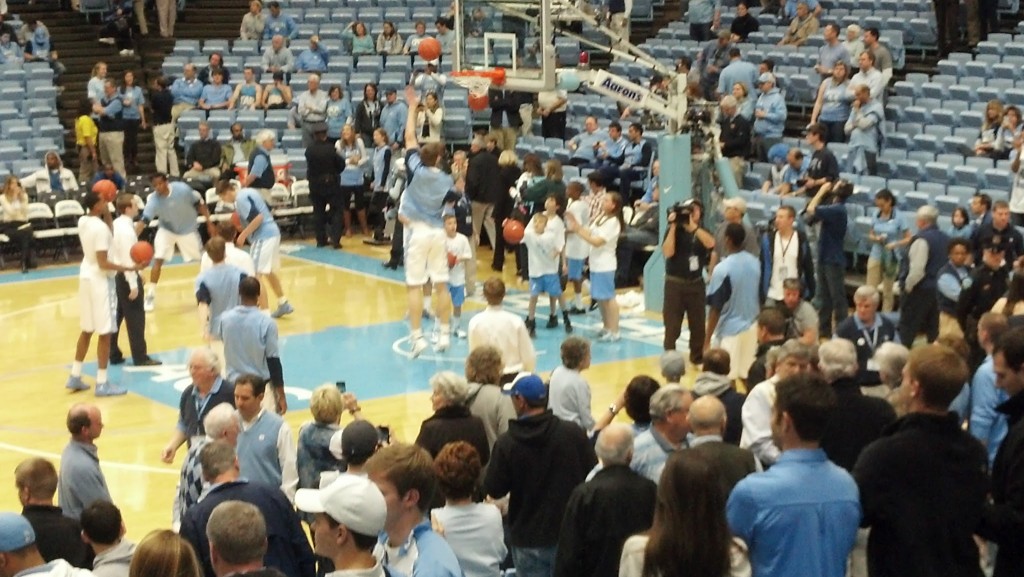 …And then there was the game. On one hand the game we saw will probably go down as one of the greatest in the history of the rivalry. Unfortunately, it was for all the wrong reasons. The 3 pointer that Austin Rivers hit at the buzzer to complete the 10 point comeback in less than 2 minutes was the absolute worst sports-related feeling I've ever had in my life. I felt like someone punched me in the gut as hard as they possibly could. It was just disheartening that our senior leader, the 7 foot Tyler Zeller was the only person in the building that didn't know what Rivers wanted to do on that last shot. When the ball went through the net the arena literally went into shock. It was completely silent for about 30 seconds as no one really knew what to do. Then everyone just started filing out silently like they were leaving a funeral. It took me a good 15 minutes to calm down and to stop replaying all of the terrible final possessions in my mind.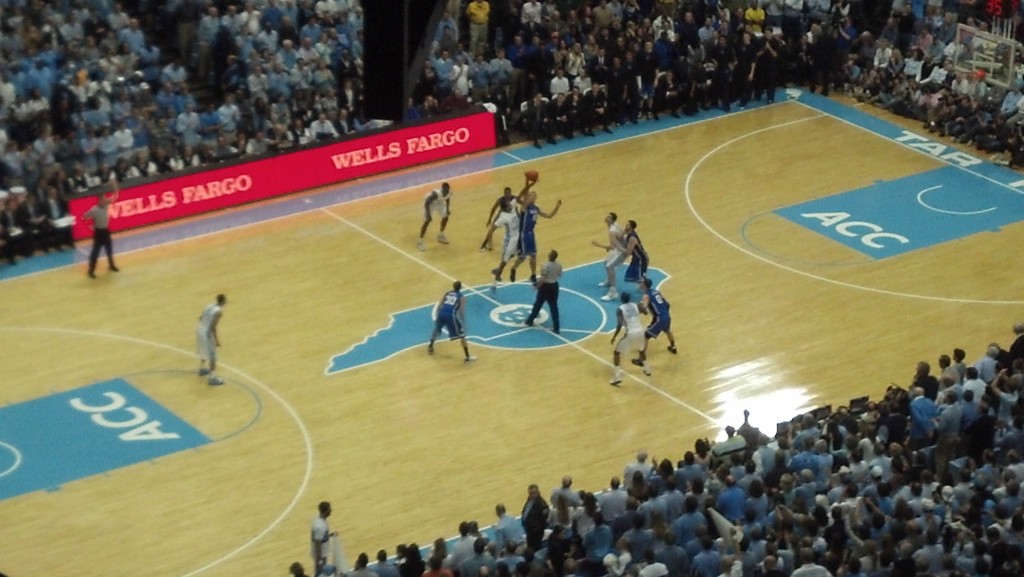 Other than the final 2 minutes the rest of the game was an awesome experience. We got to the game an hour and 15 minutes early and we got to go down nearly to the court and take pictures of warmups. The student section was already packed and going wild when we got there. OUr seats were all the way up in the very last row, but we still had a surprisingly good view. Duke came out on fire from downtown so the beginning of the first half was a little frustrating, but things really got going for UNC with about 2 minutes left in the half. They finally got close and took the lead on a big steal and fastbreak layup. Then UNC just took complete control in the 2nd half. Kendall Marshall was unstoppable driving into the lane. Harrison Barnes was making tough jump shots and getting into the paint at will. With a 10 point lead and under 2 minutes to play it got to the point where everything had to go completely right for Duke and completely wrong for UNC for Duke to get the victory. We needed just one solid possession or one of their shots to rim out. It didn't happen. Zeller and Barnes missed key free throws. Barnes was  called for a charge. Zeller tipped in an airballed 3. The one other shot Duke missed was immediately rebounded and put back in. Basically, it came down to the fact that Carolina stopped attacking and playing their brand of basketball (which they arguably had to do to take time off the clock) and that gave Duke the window they needed.